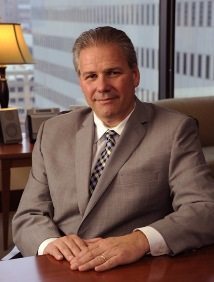 Michael E. McCabe, Jr. is a registered patent attorney specializing in ethics advice and representation of intellectual property professionals before the Office of Enrollment and Discipline (OED) of the U.S Patent and Trademark Office and in related State Bar matters in Maryland, Virginia and the District of Columbia. Michael has proudly represented more IP professionals in ethics matters before the USPTO than any other lawyer or firm. His practice encompasses every type of ethics proceedings before the USPTO, including character and fitness inquiries, ethics investigations, settlements, disciplinary trials, and appeals. He has represented over 200 patent and trademark practitioners in the U.S. His clients' matters involve the gamut of IP professionalism issues, including ethics and disciplinary inquiries resulting from criminal misconduct or convictions, reciprocal state bar proceedings, and scores of matters relating to the provision of patent or trademark legal services.
He is the creator of IPethics & INsights, an award-winning law blog Michael started in 2014 as a resource for the intellectual property bar as well as law firm risk managers, in-house counsel, and legal malpractice insurers. He is regularly invited to speak at bar association meetings and for private clients on all types of matters relating to best practices in patent and trademark law and to assist his attorney and other legal professional clients when an ethics investigation is commenced or disciplinary complaint is filed.
Patent and trademark attorneys and in-house IP counsel frequently engage Michael for help in identifying problems in their practices, either internal to an organization or with clients or others. Michael is a team player who works constructively with his attorney clients to develop practical solutions while ensuring their practices comply with the standards of professional conduct governing intellectual property practitioners. He has helped guide his patent and trademark lawyer clients faced with ethics and liability issues on most every procedural matter that can arise in an intellectual property case, including ethics and disciplinary issues arising from claims or adjudications of inequitable conduct, sanctions orders, Rule 11 and Rule 37 violations, fee-shifting orders under Octane Fitness, disqualification orders, protective order violations, client complaints, conflicts of interest, missed deadlines, and other alleged improper behavior that can arise in an IP practice. Michael has had the pleasure of representing some of the country's most respected IP lawyers and law firms whenever their professional behavior or ethics are called into question.
Michael has practiced law for over 27 years, with a strong background in federal litigation. From 1992 until 1995, Michael was a litigation associate at Shapiro & Olander in Baltimore, Maryland, where he represented clients in commercial and insurance litigation matters in federal court and before state and federal agencies.
From 1995-1999, Michael was associated with the Alexandria, Virginia IP boutique law firm of Lowe, Price, LeBlanc & Becker, where he represented individuals and corporations in patent, trademark and copyright litigation matters. In 1998, Michael joined the Washington, D.C. office of McDermott, Will & Emery, where he was a partner in the intellectual property litigation department focusing on patent litigation in district courts and before the International Trade Commission.
From 1999-2011, Michael was a partner and shareholder in the Alexandria, Virginia IP law firm of Oblon, Spivak, McClelland, Maier & Neustadt, P.C., where he focused his practice on representing domestic and foreign clients in the United States patent litigation. It was at Oblon that Michael first became exposed to the cross-section of intellectual property and ethics law, handling real-time issues on behalf of his firm. Michael was one of the co-founders of Oblon's Risk Management Committee and eventually became the Chairman of that Committee. In this capacity, Michael handled all matters pertaining to ethics, malpractice, liability insurance, and professional responsibility issues for 140 patent and trademark professionals and 300 non-practitioners. He was elected to the Oblon firm's Board of Directors. This experience proved invaluable in helping Michael understand the complex legal and ethical issues associated with effectively supervising and managing a global Intellectual Property practice that regularly obtains thousands of patents and trademarks each year.
In 2011, Michael became a partner in Funk & Bolton, where he founded the law firm's Attorney Ethics and Discipline group. At Funk & Bolton, he focused his practice on representing IP attorneys and patent agents nationwide in ethics investigations and disciplinary proceedings before the USPTO.
In April 2017, Michael founded McCabe Law LLC, which later merged into McCabe/Ali. His practice continues to focus on representing attorneys and agents in ethics matters and disciplinary proceedings before the USPTO, providing ethics advice and counseling for IP lawyers, government attorneys, in-house counsel, and law firms practicing in intellectual property law. He has spoken at hundreds of conferences, including for national and international organizations as well as local state bar meetings. Michael is often quoted in the legal news media on developments in matters involving ethics, professionalism, inequitable conduct, malpractice, conflicts of interest, and numerous other topics of interest for intellectual property practitioners.
University of Baltimore School of Law - Baltimore, MD
J.D. Magna Cum Laude
Member of the Law Review
Member of the National Moot Court Team 

University of Maryland College Park - College Park, MD
Bachelor of Science Degree,
Mechanical Engineering
State Courts – Maryland, District of Columbia and Virginia

United States District Courts – Maryland, District of Columbia, and Eastern and Western Districts of Virginia

United States Courts of Appeal – Fourth, Eleventh, District of Columbia, and Federal Circuits

Supreme Court of the United States

United States Patent and Trademark Office (Reg. No. 37,182)
Teaching and Bar Service
From 2007-2010, Michael was an adjunct professor of law at George Mason University School of Law, where he taught patent law courses to night students.
In 2011, Michael was elected by the Virginia Supreme Court to serve a three-year term on the Virginia Bar Fourth District Committee on Lawyer Discipline.
From 2011-2014, Michael served as a faculty member for the Virginia State Bar's Harry L. Carrico Professionalism Course, and was recently elected to another 3-year term (2019-2022).  He teaches new Virginia Bar members ethics in the field of general law as well as specifically regarding intellectual property.
From 2012-Present, Michael has regularly served as a Guest Lecturer on Patent Law at The Johns Hopkins University Carey School of Business.
Associations/Activities/Organizations
American Bar Association, IP Law Section, Ethics & Professional Responsibility Committee, Chair
Association of Professional Responsibility Lawyers (2013-Present)
American Intellectual Property Law Association (member since 1995; former Chair of Membership Committee)
Giles S. Rich American Inn of Court (Emeritus Member, previously Treasurer/Secretary from 2012-2016)

Engineering Work Service
From 1985-1989, Mr. McCabe worked as an engineer at the National Aeronautics and Space Administration (NASA), Goddard Space Flight Center (GSFC), in Greenbelt, Maryland. While employed at NASA/GSFC, Mr. McCabe was a member of the Advanced Development and Flight Experiments Section of the Thermal Engineering Branch, where his group focused on designing, developing and testing of two-phase heat transfer systems for the International Space Station.
Speaking Engagements
The professionals at McCabe//Ali speak at numerous events throughout the year for some of the largest bar organizations in the world, both online and in-person. Topics include Trademark and Patent Ethics, Malpractice Defense, IP and USPTO Ethics, and more.
IPethics & INsights Blog
A resource for intellectual property attorneys regarding patent and trademark ethics, professional liability, and discipline, including the latest USPTO and court decisions, trends, news, and analysis.
Custom CLE Programming
McCabe//Ali provides on-site or remote Continuing Legal Education programs customized specifically for IP practitioners, in-house counsel, risk managers, and para-professionals. Our programs, which are designed specifically for the needs of your organization, provide a simple, cost-effective, and efficient way to earn valuable CLE credit.